STEM
At Sisters Elementary School, our students have the opportunity to visit the STEM Lab 1-2 times per week.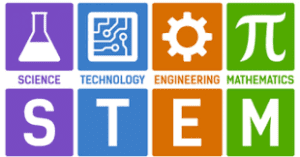 At Sisters Elementary School, our students have the opportunity to visit the STEM Lab 1-2 times per week. During instruction, which is centered on the Next Generation Science Standards, Computer Science Standards, and Common Core Mathematics Standards; students receive robust instruction based on real-life problem solving applications. STEM focuses on the practical application of science and technology to supplement classroom learning. Sisters Elementary offers applied math, engineering basics, movement and mechanics, computer science program, environmental science and a STEM Garden and Greenhouse program.

Our Environmental Science Program goals are to teach students how to learn how the natural world works, to understand how we as humans interact with the environment, and also to determine how we affect the environment. We want students to be able to:
Develop literate students that can identify native fish, animal, and plant species of Central Oregon.
Identify healthy stream indicators through water chemistry tests and macroinvertebrate and fish identification.
Understand environmental effects of human impact on local ecosystems and explore solutions to ramify that impact and lessen damage created by humans.
Explore solutions to environmental problems for future generations.
Understand how plants impact environments and help restore native plants for insect revival to local watersheds.
Fourth Grade: studies botany with USFS
Sisters Elementary School partners with the United States Forest Service, Bureau of Environmental Services, Discover Your Forest, Central Oregon Geological Society, University of Oregon, City of Sisters, Children's Forest, Upper Deschutes Watershed Council, Think Wild, Sisters High School, Central Oregon Stem Hub, and Pollinator Pathways.
Our STEM Garden and Greenhouse program allows students to solve real world food problems, develop a relationship with their food source and learn where it comes from, grow and eat their own food, perform science experiments, and meet local farms and ranches. We grow a variety of vegetables, fruits and flowers throughout the year to eat and take home!
NGSS Aligned Content Studies:
Third Grade:
Physical Science: Genetics Variation, Traits, Heredity, and Fossils
Life Science: How do organisms vary in traits and deal with environmental changes?
Earth and Space Science: Weather and Climate/Natural Disasters
Engineering: Climate change and how can we create structures to survive natural events?